About the Inheritance Project
The Inheritance Project started as just a soundtrack project. Now I teamed up with Jake, who provides stunning art for characters and places of the Inheritance Cycle
We decided to re-structure the Inheritance Project into a Fan-Effort to breathe life into the world of Alagaesia. There are so many talented people who make stunning Fan-Art and we thought it would be cool to get everything sorted and organized.
The Inheritance Project is now a curated place of Fan-Art. Jake and I want to give a full concept of Alagaesia and the people living there so we decided to open the project up for submissions from other artists, who share our vision.
Our main hub to organize and share ideas is the "Paolini Fans-Discord Server". Feel free to join and suggest stuff we should do next. Or maybe you've made Fan-Art yourself and you think it fits into our vision. Just shoot a Mail or a Discord PM to one of us, and we will include your art into the project (full credits, of course, no soul-selling whatsoever).
Please understand, that we can't feature every piece of art we receive, since we're working towards a clear vision and presentation. Check the Design Document linked below for information on topics we haven't touched on yet, maybe you want to suggest some missing links!
Anyway, feel free to join the discussion on the Discord. It is a great server with many talented people who love to discuss the Inheritance Cycle and other related or non-related subjects!
We wanted to make the Inheritance Project as open as possible, so there are countless ways to participate if you wish to do so!.
You can draw in any kind of way? Great! Share it! Let us know what you did, if you keep our aesthetics we will feature them in the project and the world of Alagaesia grows a bit.
Do you play an instrument? Cool! I'm always looking for soloists who want to take part in the music.
Do you write stories, draw comics or want to try out storyboards? Nice! Join us on our venture!
You can do some other stuff I haven't mentioned yet, that breathes life to the world of the Inheritance Cycle? Great! We're looking exactly for people like you!
Another important part:
You keep all rights on your work of course and will receive full credit with every piece of artwork we decide to feature!
​
The goal is to unite and organize the fanbase in one place! We love to see all the pieces of Fan-Art and we would love to collect all these pieces that share a common vision!
The website is WIP and we will add new Character-Pages and further information down the line. The page will hopefully grow and flourish to one day give a complete overview of the world of Alagaesia!
Living in Germany, Malte composed music for several years, providing music to theatre, short films, audiobooks and other media. The Inheritance Project is his largest passion project yet and meant to express his love for the Inheritance Cycle.
Co-Founder, Illustrator, Admin
Hailing from Littleton, Colorado, Jake is an illustrator, dungeon master, and fighting gamer who loves The Inheritance Cycle. On any given day, you'll find him vigorously scribbling portraits while chugging multiple pots of black coffee.
Hal's deep and unwavering love for both the Inheritance Cycle and the fantasy genre began in 2006. When not napping, he can normally be observed in the wild drawing or working on a story of his own.
Hailing from the Netherlands, Noëlle spends most of their free time either drawing, reading or talking about the Inheritance cycle. Excited about every new fanart or project that comes forth in the community, they have a folder with all the Inheritance cycle Fan art they stumble across taking up disk space.
Marcus Wood is an Actor, Fight Choreographer and Composer from England. He joined the Inheritance Project team this year to help out with music, writing and general coordination with film production.
Matthias's love of dragons and all things fantasy started with Eragon in 2006. Currently living in Texas, he spends his free time writing and rewriting the same scenes ten different times and playing an axe wielding barbarian in his D&D group.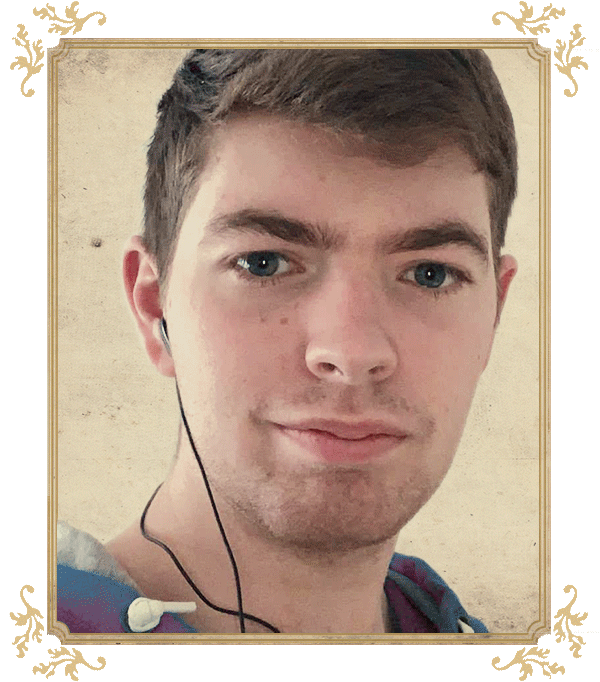 Studying screenwriting in England, Jack read the Inheritance Cycle growing up. You'll likely find him listening to 80s music or writing stories
​

Storyboarder, Sculpturer, Animator, Artist....
You want to participate in
The Inheritance Project?
Do it!